The biotech sector continues to be a strong performer in the market as the main biotech indices have shot up some 10% in recent weeks.
Intra-Cellular Therapies continues to rocket higher, and analysts issue some positive commentary on Verastem and Sarepta Therapeutics after encouraging trial results.
All the other notable news, events and analyst ratings from across the sector are below. We also revisit Synergy Pharmaceuticals after its big financing deal.

"Your attitude will either make or break you, we cannot change fate and the tragedies that enter our lives but we can choose how we want them to change us." – Nikki Rowe

Biotech continues to be one of the strongest sectors in the market. The main biotech indices are up some 10% over the past few weeks and managed to post a small gain in trading yesterday while the overall market posted small declines. The sector stands at levels not seen in two years while still down some 15% from its last peak in July of 2015.

Intra-Cellular Therapies (ITCI) continued to add to its substantial rally over the past few weeks in trading Thursday. The company announced positive top-line data from the first part of an open-label safety switching study. This study had 302 patients with stable symptoms of schizophrenia were switched from standard-of-care antipsychotic medications to ITCI's lumateperone with no dose titration of lumateperone required for a 6-week treatment duration, then switched back to standard-of-care. The stock has been "en fuego" since a favorable FDA action on Aug. 23rd.
The stock of Alnylam Pharmaceuticals (ALNY) took a bit of a hit on Thursday after the company announced it was suspending the dosing in a Phase 2 open-label extension study of RNAi therapeutic fitusiran for the treatment of hemophilia A and B with or without inhibitors after a patient death. The company expects to resume dosing after reviewing the safety data and developing a risk mitigation strategy.
Adamas Pharmaceuticals (ADMS), one of only two holdings that is both in the Insiders Forum and Biotech Forum model portfolios, continues to pick up fans in the analyst community after recent FDA approval of its compound GOCOVRI for Parkinson's. Today a five star ranked (TipRanks) analyst at JMP Securities chimes in with a reiterated Outperform rating and $33 price target. He actually notes another early stage compound in Adamas' pipeline for some of his optimism on the stock:
Phase 1b data for ADS-4101 for the treatment of partial onset seizures in epilepsy showed the potential ability to dose to higher levels without adversely affecting safety/tolerability, which should result in a superior clinical benefit compared to the approved doses of VIMPAT.

Verastem (VSTM) is getting a lot of analyst mentions since encouraging Phase III results were disclosed Wednesday. Cantor Fitzgerald, Oppenheimer and H.C. Wainwright all reiterated Buy ratings on this Tier 4 developmental concern on Wednesday and Thursday. Price targets proffered are in a wide $6 to $17 range.
Sarepta Therapeutics (SRPT) seeing similar action after it announced positive results from a Phase 1/2 study (4053-101) assessing golodirsen (SRP-4053) in 53 boys with Duchenne muscular dystrophy (DMD). Piper Jaffray, Oppenheimer and JPMorgan all reissued Buy ratings on this DMD play on Wednesday and Thursday with price targets ranging from $55 to $76.
Newlink Genetics (NLNK), a recent Spotlight feature, rocketed up 75% in trading on Thursday. It announced very encouraging results from a Phase II trial evaluating the combination of its drug indoximod with Merck's (MRK) KEYTRUDA (pembrolizumab) in patients with advanced melanoma. While it involved a relatively small subset of patients, results showed that complete response rate improved from 12% to 20%, and recorded an overall response rate of 61% and a disease control rate of 80%.

Earlier this week, Synergy Pharmaceuticals (SGYP) addressed the biggest overhang on its stock; a funding overhang. We discuss the impacts of this transaction in today's Spotlight feature.
This small biopharma secured a debt deal with CRG LP to provide some $300 million in debt financing on Tuesday. The first tranche of $100 million was funded on closing, the second $100 million installment will be provided on or before the end of February 2018 and two $50 million tranches on or before the end of March 2019.
The loans matured at the end of the first half of 2025. Payments under the loan will be interest only and paid quarterly for the initial five-year period. This will followed by a dozen quarterly installments of principal and interest during the final three years of the term. This could convert to an eight-year interest only period if certain milestones are achieved.
The interest on the debt was 9.5%. This compares favorably to other similar deals I have seen on some of the biotech companies I have held in similar situations. Relypsa (RLYP) obtain half the financing and at 11.5% before it was bought out several months later. Merrimack (MACK) paid 12% last year.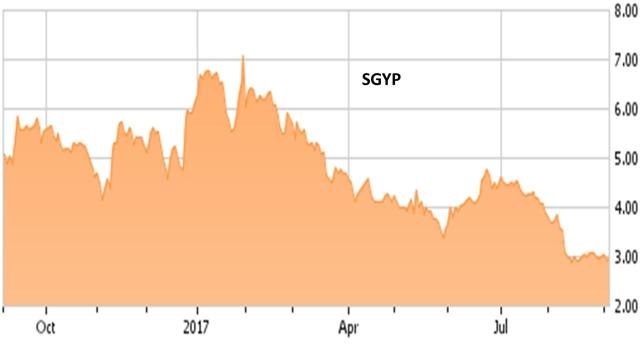 The debt deal does a couple of important things for Synergy Pharmaceuticals. It obviously removes the funding overhang that has cut the stock more than in half since Trulance was approved in January. It gets the company to 2019 where its CFO has stated the firm will be cash flow positive. Most importantly, it keeps the company in play as an acquisition target. Synergy did not have to issue convertible debt or sell any global rights to Trulance in this deal. Therefore, in no way did it diminish its appeal as an acquisition or hinder its ability to negotiate a purchase on favorable terms.
I don't see a buyout as a likely possibility over the next six months. I believe the company would like to get into early 2018 before considering any serious offers. Trulance should be approved for IBS-C expanding the potential market for the compound by roughly a third. New insurance coverage contracts should also kick in on January first. Both should help Trulance sales nicely enhancing Synergy's negotiating position.
Oppenheimer and Canaccord Genuity both reiterated Buy ratings on the stock after the announcement of the debt deal with the latter also posting a $13 price target on the stock. Canaccord's analyst adding this take on the financing deal:
Based on cash flow analysis, we expect the debt financing to sustain the company through 2019, which is highly encouraging. We believe the non-dilutive method of financing is a prudent measure to sustain company financial health without causing pressure on the share price
My own view is the company is bought out for $8.00 to $11.00 a share over the next 18 months, providing serious upside potential from current trading levels.
I have a full position in Synergy already but am adding exposure using a Buy-Write strategy to mitigate some risk and pick up some premium income as well. Buying the stock for ~$3.00 a share and looking to get 50 cents for the April $4 calls might be a nice risk/reward play at current levels, and one I plan to pursue. I offer it up for others that might be in a similar situation on Synergy.

"The strongest backs bear the heaviest burdens" – Will Bly
Disclosure: I am/we are long ADMS,ALNY,ITCI,SGYP,SRPT,VSTM.
I wrote this article myself, and it expresses my own opinions. I am not receiving compensation for it (other than from Seeking Alpha). I have no business relationship with any company whose stock is mentioned in this article.
Editor's Note: This article covers one or more stocks trading at less than $1 per share and/or with less than a $100 million market cap. Please be aware of the risks associated with these stocks.