Stocks discussed on the in-depth session of Jim Cramer's Mad Money TV Program, Thursday, September 29.
Cramer had expected the market to go up on Thursday due to oil prices but the Deutsche Banks (NYSE:DB) ruined the party for the entire world. "You can always count on the banks to screw things up royally," said Cramer. In times of solvency worries of any bank, there is always negative pin action. "So if a company like Deutsche Bank may be having real problems, and that's sure how it looks with the stock down 6.7% today, then several things are going to play out, and none of them are good," he added.
In Cramer's opinion, there are only three outcomes to this event. First is liquidity becomes tight and investors pull back their credit lines which will force the government to bail the bank as no one wants another Lehman Brothers. The collapse in 2008 was not because depositors pulled out cash but because credit lines were cut off. This is a systemic risk and if it takes place, there will be multi-day declines all over the globe. Germany will not let that happen according to Cramer. Till the German government's action is clear, there will be pressure on the stocks.
The second scenario is that the bank will have to raise liquidity on its own. This is good for the financial system but not for shareholders. The government can also take a stake in the bank in exchange for cash it requires as loan or return on equity. This scenario will just be a stock specific risk and will push European financial stocks lower and US stocks down for some time. It's a likely scenario that government steps in or shareholders infuse more capital.
The third scenario lies between the first two. If Germany delays stepping in, it will cause multiple days of downward pressure on European banks and financials. This will also bring the US market down until there is clarity on the situation. If this scenario takes place, buy stocks of high-quality companies that have come down due to this macro scenario.
Stick with stocks of high quality companies that have reported good numbers – like Pepsi (NYSE:PEP). The longer this situation lasts, the harder will it be for the market.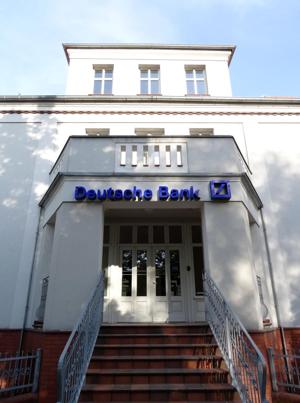 CEO interview – Cisco (NASDAQ:CSCO)
Cisco is transitioning itself into fast growing market like cyber-security and internet of things. Their efforts could be seen in their last earnings report where they beat earnings, expanded gross margins and offered a conservative guidance for next quarter. They also offered cost saving initiative which will save them $700M that will be re-invested in growing businesses. Cramer interviewed CEO Chuck Robbins to know what lies ahead.
"As I think about what is important for us going forward is first of all the industry and everything about the environment in which we operate is moving faster than it ever has, which is going to require us to move more rapidly than we ever have. It requires us to embrace more technology transitions at one time than we have had to do in the past," said Robbins.
Cisco is evolving as a business. Customers want more services and the subscription based model gives better predictability in earnings. The transition to the new model is gradual. They have also raised their dividends to keep up with their commitment of giving back 50% of their free cash flow.
He commented on the world economies by saying that India and Mexico remain strong and US is steady. Brazil and Russia have been weak while China has seen three quarters of growth and the last one being weak. Robbins said that he is hopeful of tax reforms in 2017 which will help US companies bring their money back that will be reinvested.
Cramer said that Cisco is cheaper than the average stock with more than 3% yield and is a core holding in his trust.
Oil
Don't get excited about the production freeze by OPEC. This is another desperate act by oil producing countries to keep the oil price above $40. "If you want to profit off it, go to the oil companies that have continued to lower their breakeven costs. They have been the beneficiaries of anything that keeps oil in the $40s, which this statement might have done," said Cramer.
Saudi Arabia's minister Khalid al-Falih specifically exempted Iran, Nigeria and Libya from the November production freeze agreement, which means that Saudis will be the only ones cutting production while others can increase. "Remember, both Libya and Nigeria have a lot of bouncing back to do because they have had their production shut down by rebels," he said.
Libya's production has fallen from 470,000 barrels a day to 292,000 recently. Nigeria went to 1.4M barrels a day from 1.9M before there were production cuts from insurgents. Iran looks to increase production to 4M barrels a day from 3.6M currently in the coming months.
To maintain production at current levels, Saudis will have to cut their production and this does not factor in Russia or Venezuela. "I don't think the Saudis will give up all that market share. I do not see the Iraqis cutting back. So, the deal itself seems plainly fanciful on the face of it," said Cramer.
The deal is just to keep the price form going down. The other way is for the demand to pick up which looks unlikely based on how the world economies are doing. "That is why I am calling it a desperate action to prevent oil prices from collapsing again. OPEC can't reveal details because there are none," said Cramer.
By November, markets will find out if the production targets are hit or not. It looks like $40 level will be in question.
China
Is China coming back? There a signs in Cramer's opinion. "Everyone acts like China is still decelerating or even stagnating, because that is just what we have become accustomed to. What if I told you the data was spinning a different story? At a certain point it starts looking pretty obvious that China could be in rebound mode, and that is a huge deal," said Cramer.
China is the second largest consumer of US exports. The Bloomberg copper index has started to rebound. This is used as a gauge for rising construction and infrastructure deals. The Baltic Freight index is also rising. "This is one of the best measures of China's economy out there, and it's giving us a pretty positive read for the first time in a long time," he added.
Many companies had positive things to say about China. Nike (NYSE:NKE), Starbucks (NASDAQ:SBUX), Yum! Brands (NYSE:YUM) have seen positive growth in the country. Even Caterpillar had 2% machine-sales growth in Asia at a time when it was declining everywhere. "Lately we have seen a number of signs that make me think the Chinese economy could be picking up steam, and just the possibility of a turn in China is an incredibly bullish development," concluded Cramer.
Viewer calls taken by Cramer
Boeing (NYSE:BA) or AerCap (NYSE:AER): Buy Boeing with a long-term view.
CME Group (NASDAQ:CME): It's on fire and they are in a bullish situation. Buy it.
Hilton Worldwide (NYSE:HLT): Cramer is not a fan and he advised selling the stock.
Kinder Morgan (NYSE:KMI): The stock is oversold so there is no point selling. The dividend cut makes it difficult to recommend a buy but the future looks good with oil stabilizing.
Cliffs Natural Resources (NYSE:CLF): It has a bad balance sheet. Don't buy.
::::::::::::::::::::::::::::::::::::::::::::::::::::::::::::::::::::
Jim Cramer's Action Alerts PLUS: Check out Cramer's multi-million dollar charitable trust portfolio and uncover the stocks he thinks could be HUGE winners. Start your FREE 14-day trial now!
Get Cramer's Picks by email – it's free and takes only a few seconds to sign up.